The Journey Begins
Children's House, our Montessori preschool program, provides a safe, warm and nurturing environment where children build independence, self-esteem and a love of learning.
Our credentialed Montessori teachers use stimulating, hands-on materials to spark your child's imagination and introduce key learning concepts. children build independence and self-esteem through mastery of these materials.
Each area of our learning environment is carefully prepared to enable your child to progress naturally and at his/her own unique level and pace.
The preschool curriculum includes the following: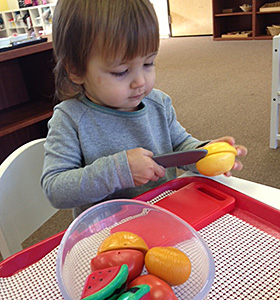 Practical Life
Practical life exercises develop task organization, a sense of order, coordination, concentration and motor skills. Social skills and independence are enhanced through care of self, care of the environment, grace and courtesy.

---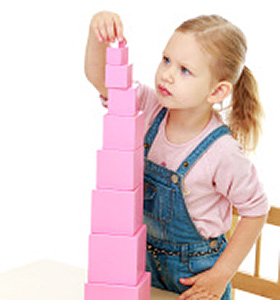 Sensorial
Sensorial materials offer an opportunity to order, classify, seriate and describe sensory impressions in relation to length, width, height, temperature, mass, shape, sound, taste, and color.

---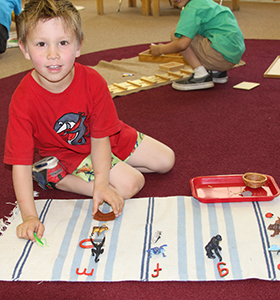 Language
Language development is a fundamental part of our curriculum. Pre-reading and pre-writing opportunities help build a strong foundation for phonics, word building, reading and creative writing.

---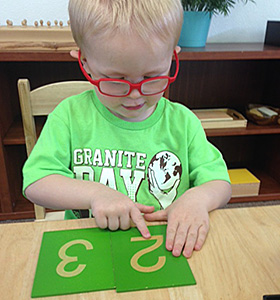 Mathematics
Mathematics are presented in a concrete, tangible manner, offering a solid understanding of one-to-one correspondence, ordering, sequencing, decimal system and geometry. This enhances abstract thinking and reasoning skills.

---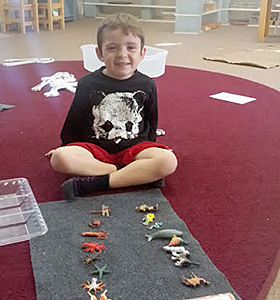 Cultural
Cultural studies explore geography, zoology, history and botany. An emphasis on understanding and appreciating cultural differences and similarities help children connect with the global human community.

---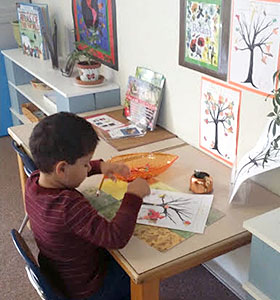 Art and Music
Art and Music age appropriate projects and songs expose children to master artists and classical composers. This cultivates creativity and self-expression.

---
Key features of our Children's House program include:
Highly trained, certified Montessori teachers
Low student to teacher ratio (12:1)
Experienced, educated, loving support-staff
Half and full day programs
Before and after school daycare
Entertaining and educational Summer program
Stong emphasis on math and reading
Art, music, science, Spanish, sign-language
Strong sense of community and family involvement
Montessori introductory classes for parents
Healthy snacks
Priority entrance into our Elementary program